| | |
| --- | --- |
| Production Name | 3m dual lock strips, 3m dual lock sj3550, SJ3550 |
| Mateiral | Plastic and adhesive |
| Size | 1inch x 50yards / 2inch x 50yards |
| Color | Black duallock with white gule |
| Temperature resistance | 93°C |
Details: 3m dual lock sj3550
1. Black, interlocking mushroom-shaped heads (250 stem density per square inch) provide strong, reliable and durable fastening that can be opened and closed multiple times
2. Mates with Type 170, Type 250 or Type 400 stem densities to provide different strength combinations
3. White, acrylic, conformable foam tape bonds well to a variety of substrates including metals and plastics such as acrylics, polycarbonate and ABS
4. Strong fastener secures with an audible snap, verifying closure
5. An alternative to screws and bolts, this hidden fastener provides a snug fit and smooth aesthetic appearance
6. Features good temperature resistance of 200°F (93°C)
7. Best suited for indoor and outdoor use
3m dual lock sj3550
3M Dual Lock Reclosable Fastener SJ3550 is the convenient alternative to traditional fastening methods, such as screws, nuts or bolts. It is designed to deliver a durable, reclosable fastening solution (which can be opened and closed multiple times) which bonds to a variety of substrates including metals and plastics such as acrylics, polycarbonate and ABS.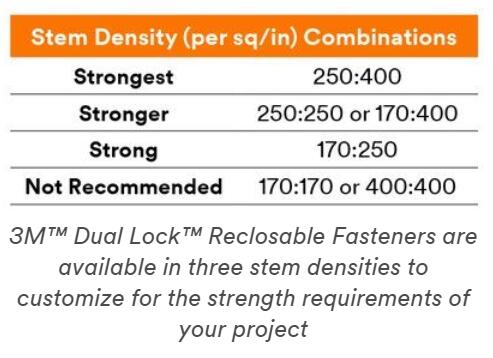 Recommended Applications:
Access panels
Graphic attachment
Specialty vehicles (interior attachments)
General industrial attachment
Small components
3M Dual Lock Reclosable Fasteners sound an audible snap when secure, which verifies closure of the attachment. To disengage, simply peel the pieces apart by hand. Our fasteners maintain their strength throughout multiple attachments and detachments. A lightweight alternative to metal fasteners, this product remains hidden beneath surfaces and does not interfere with the integrity of your material—providing aesthetic improvements and design flexibility.
Welcome to inquire 3m dual lock strips, 3m dual lock sj3550, SJ3550